If you're looking for something different to hang on your wall, take a look at fine art metal prints for a stunning and colourful way to brighten up your room!

Metal prints are becoming among the most common substrate for photographers and artists to print onto these days.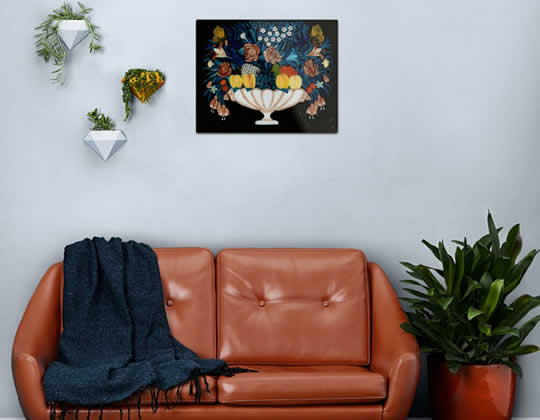 These prints are most commonly exhibited at local art festivals, along with canvas wraps.
Popular Print Substrate
Metal prints are gaining popularity because they have a glossy, saturated appearance and are more affordable than externally framed or acrylic prints.

Metal prints are also a durable substrate for printing, making them ideal for places with high foot traffic such as offices, hospitals, art festivals, and areas where there is moisture or humidity such as bathrooms and kitchens.
Wall Art
Aluminium print photos make great wall art. The image is printed on 1mm thick aluminium sheets, which makes them light and easy to hang.

Photo prints made from aluminium are waterproof and easy to clean. They are also resistant to scratches and fade-proof.

However, not all metal prints can be created equal. Metal prints can be referred to as direct printing on metal, dye Sublimation, or silver halide prints that have been dry mounted on metal backing.

ChromaLuxe dye sublimation metal prints are a big favorite. These are thin aluminium sheets that have been heat-pressed onto the metal with dye inks.

However, dyeing sub-metal prints has its limitations in sharpness and accuracy. This drawback is offset by the incredible colour reproduction display that really stands out from other forms of wall art.
Fine Art Printed on Aluminium
This remarkable method of display makes fine art reproduction look vivid and totally lifelike, quite different to other kinds of printing techniques.

They are made by infusing colour-rich dyes directly into specially coated aluminium sheets. These prints burst with colour and they're lightweight, making them easy to hang on walls.

Modern and sophisticated, fine art aluminium prints look equally amazing hung on the wall of a suburban home, a city apartment or in an art gallery.
Where to Buy Fine Art Printed on Metal?
There are a number of ways to purchase fine art reproductions printed onto metal sheets.

The easiest way is to get them online. It just so happens that I have been working in conjunction with a print-on-demand store online that uploads incredible works of art from public domain images and has them printed onto aluminium sheets that are for sale at surprisingly affordable prices.

The metal prints are shipped to your door, making the whole process very easy indeed. Below is an example of what is available on this particular art store on Redbubble:
Click to View
#ad
This example is a reproduction of "Still Life—Flowers and Fruit in White and Pink Bowl" circa 1840-60.

The prints come with gently rounded corners and you can choose your finish. Either choose gloss, for brilliant colours and detail, or choose matte, for a soft, even look with minimal glare.

These pictures can be easily wiped clean with any soft cloth and they come with a back-mounted fixture making them ready-to-hang!

Click/tap the image to visit the print-on-demand store at redbubble for more details.

Once at the Redbubble store (atee4thee), you can browse around for more fabulous wall art ideas.


Posted: May 29, 2022

Janice White